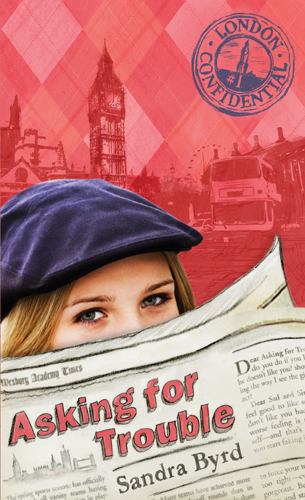 Asking for Trouble is the first book in the London Confidential series by Sandra Byrd. An American teenage girl travels from Seattle all the way to Wexburg, a small town right outside of London. Savannah Smith finds herself in a new country as her father's job takes her family across the sea. With the chance at starting her high school life fresh Savvy decides to take a chance and apply for a position on the school newspaper. She is faced with many challenges, with everything so new and different, but with God by her side Savvy puts her trust into her faith and learns how to overcome them.
I realized Asking For Trouble was a book for children and even though I read it with my adult eyes I remembered that I was once a 15 year old girl. This is a very short read that brought back many memories from my high school days. I did enjoy it even though it wasn't the most interesting book I've ever read. I would still recommend it for young girls. Sandra did an excellent job of incorporating Savvy's faith into the story and I have to admit while I was reading Asking For Trouble I found myself admiring Savvy for that reason. When I was 15 I know that sitting in church about one Sunday a month was the only time God was on my mind other than when I needed someone to blame when things didn't go right in my life. With many cute and quirky moments thrown in Sandra Byrd's Asking For Trouble was a great start to the London Confidential series and will definitely be enjoyable for young people. I know I will be keeping up with the series to find out what becomes of Savannah Smith..... and Bob's your uncle!
Jessie D
Tyndale House Publishers has provided me with a complimentary copy of this book.